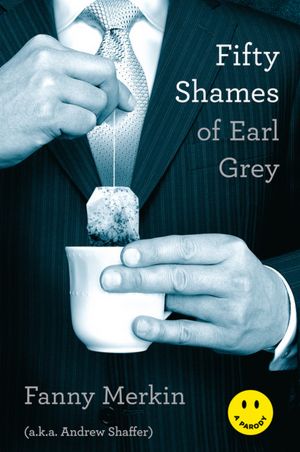 You don't even know...
I stopped into the library the other day to drop off and pick up another pile of books for my dear daughter Willow. I spied this little number sitting on the shelf. The title caught my eye, the parody sticker reeled me in.
As anyone can tell-- especially if you are unfortunate enough to know me or by some bizarre quirk in your personality, enjoy reading my posts-- I think I'm funny. No, really, I love to laugh. It usually isn't hard to get me going either. Ask Moira. Ask my BFF. I laugh so hard tears run down my leg.
So when I saw the little yellow smile, telling me to take it like a big girl, I knew this was the book for me.
Andrew Shaffer, writing under Fanny Merkin (the name- not
literally
under) says in a NY Times interview he wrote this in 10 days. All I have to say about that is "
Brilliant!
"
The blurb from the back cover states:
Young, arrogant, tycoon Earl Grey seduces the naïve coed Anna Steal with his overpowering good looks and staggering amounts of money, but will she be able to get past his fifty shames, including shopping at Walmart on Saturdays, bondage with handcuffs, and his love of BDSM (Bards, Dragons, Sorcery, and Magick)? Or will his dark secrets and constant smirking drive her over the edge?
Hilarious!
That is the only word I have, I seriously almost had to read this in the bathroom. You know, in case I,
ahem
, cried. I found this to be a parody of the original 50 shades (which I still have not read) and the Twilight books (which I will never read. I mean, come on. Sparkles...really?)
Earl Grey is convinced he's horribly screwed up with all his shames(he has a man crush on Tom Cruise) and Anna has her own quirks and issues(she picks her nose when she's nervous). She has a drunken roommate in Kathleen and her best friend Jin, is a brony. No, I will not say what that is. Find out for yourself.
All in all, I will probably end up buying this book simply to have it around for when I need a laugh-a-minute pick-me-up. Over all I have to give this 5 stars, anything less would make me a liar. So run, don't walk, to your nearest booking establishment--be it library or book peddler--and get yourself a copy. Oh, you should probably stop at the grocery and get some tissues and t.p. for when you
, ahem
, cry.